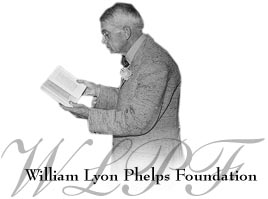 ---
Dedicated to the writing, values, life, and times of William Lyon Phelps (1865-1943), Lampson Professor of English literature at Yale University, distinguished lecturer, author, critic and ordained minister, and to Huron City, location of Professor Phelps Summer residence preserved in its original 19th Century setting within the Huron City Museum

---
Pure Gold of Nineteenth Century Literature
A Private Library All Your Own
Resolutions When I Come to be Old
Phelps Preface to the Autobiography (1939):
"The lack of order, coherence, symmetry in this book (web site) is owing neither to accident nor to laziness; it is the way I chose to write it. The pleasure of good conversation (surfing) would be destroyed if conversation were 'organized'- forced to proceed in a definite direction, instead of being brittle, broken by interruptions... When I have finished reading the proofs, I hope that some persons may read the book.
As for me, I am afraid to think what I have done; Look on't again I dare not."
(Editor)