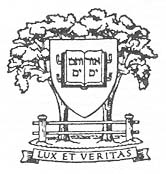 We wrote to Yale Alumni and asked them for their
stories and memories of Professor Billy Phelps to publish on this web site.
For the wonderful response, we thank them.
Charles A. Parcells, Jr.
Yale Class of '40
past President of the William Lyon Phelps Foundation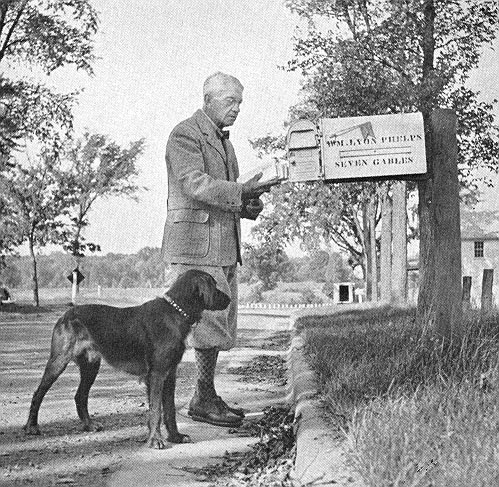 From John W. Munro
Yale Class of '26 Secretary
February 28, 1999
Dear Parcells,
Yours rec'd and much pleased to learn of the WLP Foundation. After all these years I can recall very little of my course in "T&B" and its endearing prof.
He gave a talk to our Deerfield Shields High School (Highland Park, Ill.) in my junior or senior year there. I recall his telling us that we kids were uninteresting and would remain so until further and well educated.
At "T&B" I recall his discussion of Mr Gigadibs. A clipping of my remarks in '95 is enclosed. His classes were always fun and exciting whilest we basked in the great friendliness and warmth of his personality. He used to favor a yellow shirt under a light jacket. Once one of our lads appeared in the identical get-up but I don't recall any comments by Billy.
I would hesitate to mention your Foundation in my insertion. It would reach a small number of readers. Of our approximately 100 surviving members, about one third are Sheff men and only about one third of the "Ac" men too "T&B"
Best of luck to your Foundation and may it and its enthusiastic following ever prosper.
Best regards, (signed)
(Enclosure, Class Notes Feb. 1995)
The recent article anent Billy Phelps evokes happy memories of our beloved prof, radiating good humor and goodwill to all as he elucidated his famed "T&B." Your Scribe recalls the "Bishop," its meaning now, as then, buried in 30 pages of as abstruse Browning as can be found in all six volumes of our treasured India paper set. As Billy explained it, the good Bishop is royally entertaining a starveling newsman with the improbable name of "Gigadibs," supping and quaffing 'midst u unaccustomed plenty. "Now, my lad," says the Bishop (translating Billy into today's jargon), "I have it both ways: If your agnosticism is valid, I couldn't be living higher on the hog. But if my beliefs are true, I am enjoying life to the full with an inside track to salvation."
Now, after some 70 years, your Scribe wonders at such apparent cynicism. Regardless of whether the Bishop was speaking in argument or in jest, was it not a bit unworthy of such high prelate?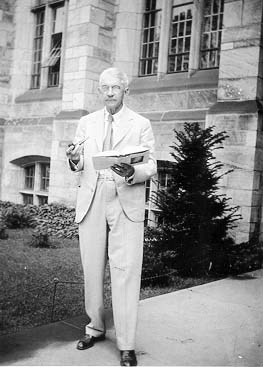 From: Rev. Wallace T. Viets, D.D.
Class of '41 and '44
March 6, 1999
Dear Mr. Parcells,
Thank you for your letter of last week concerning the legendary William Lyon Phelps.
Although I vaguely remember seeing him, then retired, when we were undergraduates and recall hearing him lecture and preach at Calvary Baptist Church (on the corner of York and Chapel in the building which is now the Yale Rep!), I do not have any particular anecdotes to share.
Both my parents remembered him and I can recall their speaking most appreciatively of him. Mother grew up in New Haven and Dad graduated in the class of 1911S.
The one thing I recall from our undergraduate days is the story that Professor Phelps never flunked a baseball player! He was a great Yale baseball fan.
Wishing you well in the your memorial efforts, I am
Sincerely yours,
Wally Viets

From: C. Howard Wilkins
Class of '29 Treasurer
March 5, 1999
Dear Mr. Parcells:
What a splendid idea you have had. I appreciate this chance to remember my junior year and the happy classes with Billy Phelps giving us his knowledge of T. & B. Certainly a high light of that year for me.
A few years ago I read of a book of his essays which I have read and enjoyed.
I thank you for your efforts for our great teacher.
Sincerely,
Howard, Sr.
From: E. Bartlett Barnes
Yale Class of '29
Dear Charles Parcells:
You certainly are working on a noble mission – gathering info for the Billy Phelps Museum – reminiscences from those who were fortunate enough to experience Billy Phelps first hand.
As a member of the class of 1929, I had Billy Phelps two years, both junior and senior year. Professor French usually had the Shakespeare course, but he was on leave that year so Billy Phelps had the Shakespeare class. Then senior year I had his "Tennyson and Browning." What a treat!
No doubt you will hear from a number of FANO club members. Unfortunately I did not get to Fano. I do recall his comments on FANO.
Enclosed is my contribution to the Billy Phelps Museum – my recollections of the April 1928 day when Gene Tunney spoke to the Shakespeare class. I am enclosing a copy on our Yale 1929 stationery – also a copy on plain paper. I am not sure which you would prefer.
Then in addition, I am enclosing the first page of the copy for our '29 column for May '99. You will note that I picked up quite a bit from your letter. Then about half way down the page, I put in a plug for classmates to send their recollections on to you.
Again, congratulations on your noble endeavors!
Sincerely,
E. Bartlett Barnes
Billy Phelps, Heavy Weight Boxing Champ Gene Tunney And Shakespeare – a great trio at Yale April 23, 1928
What a memorable day for those enrolled in Billy Phelps' Shakespeare class! A few months earlier Professor Phelps had extended an invitation to Gene Tunney to speak to the class. He knew that Tunney was fond of reading Shakespeare. Tunney readily accepted.
It was my good fortune to be a member of that Shakespeare class. We were probably as curious as the sports writers who covered this big "sports" event as to what Gene Tunney would say.
Tunney scored as a champion of Shakespeare in our humble opinion. He talked for a good 45 minutes without notes. He impressed us all with his knowledge and appreciation of Shakespeare.
What a "coup" it was for Billy Phelps to bring this champion in the sports world to speak to our Shakespeare class at Yale! And what great coverage his Shakespeare class had in the New York and other metropolitan daily newspapers sports pages.
Billy Phelps and Gene Tunney sure made sports history with their devotion to Shakespeare that day at Yale.
By E. Bartlett Barnes
Yale 1929
May '99 Notes Y '29
Bulletin – 70th Reunion in May
During our era as undergrads, Billy Phelps was one of the most popular English Lit professors. In addition to his Tennyson and Browning, in our Junior year he also taught the Yale Shakespeare course. The notable Tunney was our guest speaker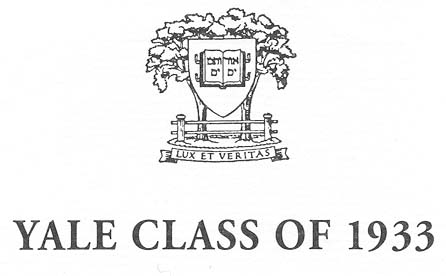 From: Richard V. Holahan
Yale Class of '33
Dear Mr. Parcells,
I do remember William Lyon Phelps. He was also called Billy by his contemporaries and by some of his students. He taught a course in Tennyson and Browning (T&B) and a special course in Contemporary Drama with professors Jack Cra wford and George Nettleton.
I did not take either of Professor Phelps' courses, but I did marry Professor Crawford's daughter Pamela. The Phelps and the Crawfords were very close friends. Mr. And Mrs. Phelps attended our wedding in 1938. In 1941 he married Pamela's sister Libby to Steve Knight, '34, Law 37 in Dwight Chapel.
I am sending a copy of your letter to Allen Converse, who writes the '33 Class Notes. I am sure that there will be activity from that quarter.
The Class of '33 was very special to Billy Phelps; his last class in T&B was in early June, 1933, and he "graduated" with us. Our Senior Class Book was dedicated to him.
Good luck with your search.
Sincerely,
Richard V. Holahan
Letter from Professor Phelps to the Class of '33
on the occasion of his retirement from Yale: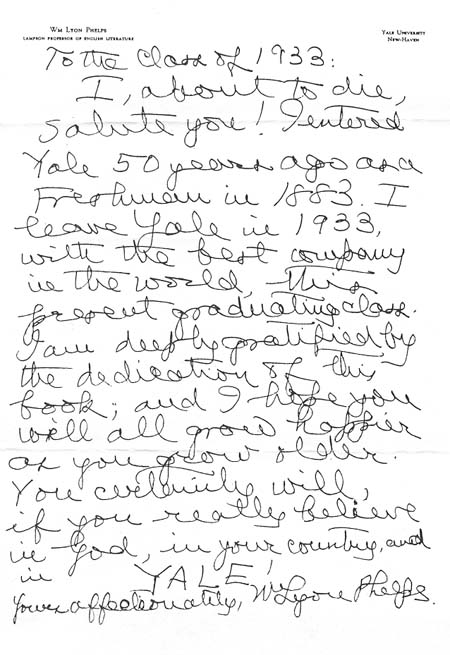 "To the Class of 1933:
I, about to die, salute you! I entered Yale 50 years ago as a Freshman in 1883. I leave Yale in 1933, with the best company in the world, this present graduating class. I am deeply gratified by the dedication of this book; and I hope you will all grow happier as you grow older. You certainly will if you really believe in God, in your country, and in YALE!
Yours affectionately,
Wm. Lyon Phelps."